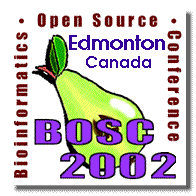 Abstract Submission for BOSC 2002
We are soliciting abstracts to be considered for talks at BOSC 2002. BOSC is a great opportunity for you to tell the community about your use, development, or philosophy of open source software development in bioinformatics. We will select several submitted abstracts for 20-minute talks and others for shorter "lightning" talks. Accepted abstracts will be published on the BOSC web site.

If you are interested in speaking or presenting a poster at BOSC 2002, please send us:
an abstract (no more than a few paragraphs);
a URL for the project page, if applicable;
information about the open source license used for your software or your release plans.
Please email your abstract to the BOSC committee <bosc@open-bio.org> by April 30, 2002. You will be notified on May 15, 2002, about whether your abstract was selected.
Abstracts can be submitted in plain text, HTML, or as an URL. Please do not submit Word files.
---
Abstract deadline: April 30, 2002